Description
Join us Tuesday, October 10th for our next BEC Presentation!
Join us at:
Meeting location: IMI Training Center – 5420 International Pkwy, Minneapolis, MN 55428
This course will be presented by Ilja Aljuskin – LUHA Build
Course Description:
Terra cotta as a building material has a long history across the world but faced challenges establishing its architectural legacy in the United States. In this course we will review the history of architectural terra cotta throughout its rise, fall, and revival of the material in the US from the late 1800s to present. Learn about major US disasters, historical building methods, rudimentary cladding attachment methods, modern attachment systems and their applications, and the safety features of terra cotta.We will review the installation techniques and structural requirements necessary for long-lasting terra cotta cladding installations and examine the environmental impact of terra cotta production and innovative sustainability features, such as photocatalytic coatings.HSW Justification:This course will provide information regarding the requirements of a properly functioning terra cotta façade system, including the installation and maintenance of the cladding. We will discuss codes governing flame spread and smoke generation. Environmental impact is addressed by discussing sustainable terra cotta production methods and photocatalytic coatings fired directly into modern terra cotta systems that remove pollutants from the air.
Learning Objectives:
Recount the major disasters in US history and explain how they led to increased interest in architectural terra cotta's safety features.
Identify the safety features and environmental benefits of high-quality architectural terra cotta cladding.
Integrate knowledge of modern terra cotta cladding attachment systems into the design process and properly select the appropriate system for a project.
Describe the requirements for proper execution of installation and the impact of installation techniques on the lifecycle of terra cotta facades.
Our Presenter: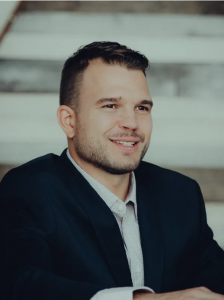 Ilja Aljoskin
Founder, LEED AP BD+C, PMP – LUHA Build
Biography:
Ilja has been involved in the façade industry for over 12 years working for installation contractors, terracotta manufacturers, and façade distribution companies. He is passionate about façade design and improving business processes. He has extensive knowledge of terracotta, natural stone, and metal panels. His hobbies include guitar, photography, travel, and martial arts.
This presentation will be an In-Person Event along with a Virtual Meeting for those who cannot attend in person. Virtual Meeting details will be sent out with meeting registration via separate email from Zoom.
Tuesday, October 10th, 2023
11:00 AM – 1:00 PM
Agenda:
11:00 AM to 11:30 AM – Check-in
11:30 AM to 12:30 PM – Presentation
12:30 PM to 1:00 PM – Wrap Up and Networking
In-Person and Virtual/Online Meeting
COST
In-Person Members – $10
In-Person Non-Members – $25   
Virtual Only Participant Member – FREE
Virtual Only Participant Non-Member – $20