Description
As with attorneys, physicians, and accountants, licensed design professionals have a fiduciary duty to their clients.  This novel but fully coherent formulation puts licensed design professionals on a proper equal footing to these other licensed professionals and provides a vital path for the future growth and maturation of the A/E profession.  This program provides a review of the current state of the fiduciary duty of all licensed architects to their clients based in both statutory language and substantive law. The recognition of the fiduciary duty is both a great opportunity and the source of great anxiety for licensed design professionals, but a full understanding will help to set the stage for a properly calibrated response in both the underlying processes of architectural practice as well as provide an appropriate bases for risk management going forward. The fiduciary duty is not based either in contract or tort and thus poses special problems in legal procedures and risk management options. At the same time, those firms ready to embrace this coming fiduciary duty regime will obtain significant advantages in the marketplace for fees and trust from owners.
Learning Objectives:
Understand what is a fiduciary duty
Recognize how a fiduciary duty applies and does not apply to design professionals
How will the fiduciary duty of design professionals impact the practice of the profession
Become aware of the risk management options and issues, including insurance issues
BIO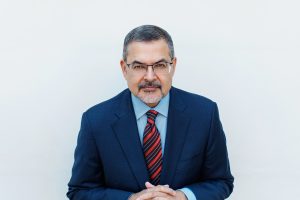 Ujjval K. Vyas, Ph.D., J.D. is an independent business consultant, scholar, entrepreneur, and principal of Alberti Group.  Alberti Group provides strategic business consulting services to the AEC industry.  With a unique approach grounded in a multi-disciplinary knowledge base, the company has conducted a wide variety of engagements including market analysis, new business development, product development, and risk management.  Clients range from Fortune 50 companies to small businesses, including manufacturers, design firms, independent specifiers, legal and insurance entities, government agencies, and trade associations.  He has lectured and published extensively in the AEC arena, focusing on legal and public policy issues associated with green building rating systems, high-performance buildings, and building specifications.  Dr. Vyas holds two US patents and is a licensed attorney having practiced construction law for a decade. Prior to becoming an attorney, he taught architectural history, theory, and design at the graduate and undergraduate levels.  He received his J.D. with honors from the Chicago-Kent College of Law, Illinois Institute of Technology, holds a Ph.D. from the University of Chicago's interdisciplinary Committee on the History of Culture, and was the founder of the Fiduciary Duty Initiative for Architecture, Engineering and Construction.
This presentation will be an In-Person Event along with a Virtual Meeting for those who cannot attend in person. Virtual Meeting details will be sent out with meeting registration via separate email from Zoom.
Tuesday, May 3, 2022
11:30 AM – 1:00 PM
12:00 AM Presentation Starts
In-Person and Virtual/Online Meeting
In Person Event will be hosted at Kraus Anderson
501 S 8th St, Minneapolis, MN 55404
COST
In-Person Members – $10
In-Person Non-Members – $25   
Virtual Only Participant – FREE
Virtual Only Participant Non-Member – $20