Description
Join us in February for a presentation on Aluminum Exterior Components with Wood Grain Look Designed
for High Performance
Join us at:
Meeting location: Hallmark Building Supplies – 9350 W. Broadway Ave, 610 Commerce Center II #100, Brooklyn Park, MN 55445
This course will be presented by Luke Jannicke
Course Description:
Using wood accents on commercial & residential exterior facades is a
growing trend. Wood accents have also maintained their popularity in the
interiors of homes & commercial spaces. Using real wood has maintenance
challenges. Aluminum components made with a wood-grain look provide
flexibility in architectural design & low-maintenance for the end-user.
Learning Objectives:
• Identify architectural component materials and discuss material
selection considerations
• Describe aluminum architectural elements in terms of their manufacture,
components, and function
• Discuss the use of aluminum architectural elements and evaluate their
performance benefits
• Explain how to properly install and maintain aluminum
architectural components
Our Presenter:
Luke Jannicke
Hallmark Building Supplies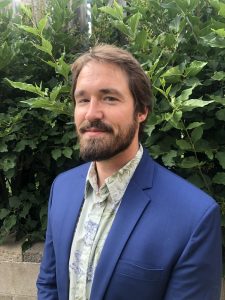 Luke Jannicke is a Business Development Manager for Hallmark Building Supplies.  As a DuPont Tyvek Specialist, Luke primarily works in commercial construction and partners with architects, specification writers, builders, and contractors to ensure building envelope solutions are specified and installed correctly.  Some other architectural building products Luke represents are: Levante Aluminum Architectural Components and Royal's Zuri Premium PVC Decking.
Luke graduated from the University of Minnesota with a degree in Sociology before traveling extensively through Oceania, Southeast Asia, India, and Africa.  He entered the construction world while working in Australia performing civil bridge and culvert remediation before returning to Minnesota and working for Chicago Brass Architectural Hardware.  Luke resides in Northeast Minneapolis and enjoys hiking, biking, scuba diving, and spends many evenings at the dog park with his two year old Beagle.
This presentation will be an In-Person Event along with a Virtual Meeting for those who cannot attend in person. Virtual Meeting details will be sent out with meeting registration via separate email from Zoom.
Tuesday, February 14, 2022
11:00 AM – 1:30 PM
Agenda:
11:00 AM to 11:30 AM – Check-in
11:30 AM to 12:30 PM – Presentation
12:30 PM to 1:00 PM – Wrap Up and Networking
In-Person and Virtual/Online Meeting
COST
In-Person Members – $10
In-Person Non-Members – $25   
Virtual Only Participant Member – FREE
Virtual Only Participant Non-Member – $20